| | | | | |
| --- | --- | --- | --- | --- |
| [ | Date | | | 2011-01-31 18:02 -0500 | ] |
As of January 2011, Freehands totally sucks at online commerce:
Having presumably detected a non-US IP number, they printed all prices in EUR, but ended up actually charging my card in USD, which is Bad, because then I get charged hefty conversion fees by my bank;
they failed to give any kind of response to my support request after more than a month (the message I wrote using web form shows up when I log in, which guarantees that they received it);
their e-mail setup is broken: DNS records for freehands.com point to Google Apps servers, which reject mail addressed to all published accounts I could find.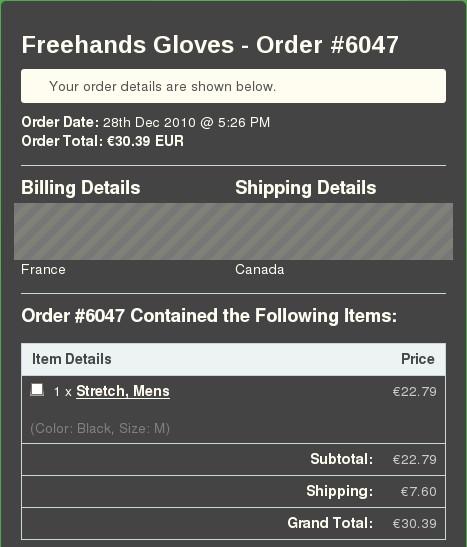 From: "Freehands Gloves" <orders@freehands.com>
Subject: Your Order From Freehands Gloves
Date: Tue, 28 Dec 2010 22:28:02 +0000

Thanks for Your Order!

    Your order ID is #6047. [...]

Your Order Contains...

    Cart Items     SKU           Qty  Item Price  Item Total
    Stretch, Mens  855549000215    1  $30.00 USD  $30.00 USD
    (Color: Black, Size: M)

                                        Subtotal: $30.00 USD
                                        Shipping: $10.00 USD
                                     Grand Total: $40.00 USD
On the other hand (hah!), the product itself is kindof okay I guess, and shipped in a timely manner. Still, I would not buy from them again.
---